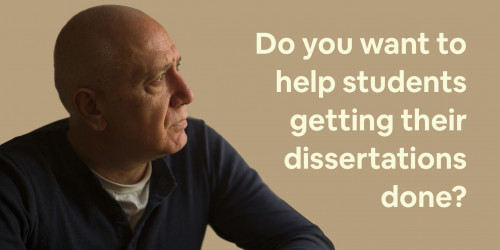 As a well-educated individual you have been through the process of writing a dissertation or thesis yourself. Perhaps even more than once. Probably, you have also a lot of life experience you might want to pass on the the next generation of students. They struggle with planning, writing or finishing their dissertations while having a full-time job and perhaps even a family.If you have the capabilities to coach these students academically and personally you should sign up on FindSupervisor. You make the financial agreement with the students yourself. You might want to do it for free or charge a fee. That is entirely up to you.Premium Members of The Educated Singles Club get 50% discount on li
Ads on The Educated Singles Club website
Ads in this space are curated by The Educated Singles Club. We invite advertisers who we believe have products or services of interest to our members.
We sell the ad space to the advertisers, but we receive no commission from them nor services of any kind in return.
We encourage the advertisers to offer a discount to members of The Educated Singles Club. The financial relation is exclusively between the member and the vendor
Interested in advertising?
If you are interested in advertising on this page then send a message to The Educated Singles Club here